Fra instituttleder
Gode nyheter!
Det blir en del gratulasjoner i dagens utgave av IFT-posten. Det er med stor glede og tilfredshet jeg kan meddele at bŒde Kjellmar Oksavik og Jesper Gjerloev i gŒr takket ja til tilbud om fast stilling i romfysikk ved instituttet. Siden stillingen ble lyst ut som f¿rsteamanuensis, blir de i f¿rste omgang tilsatt som f¿rsteamanuenser. SŒ da blir ogsŒ morgendagens fellesseminar langt mer enn en feiring av AISM-kontrakten! Gratulerer til romfysikkgruppen, dette blir spennende! Vi kommer tilbake med mer informasjon om tidspunkt for oppstart.
| | |
| --- | --- |
| <![if !vml]><![endif]> | Jesper Gjerloev har sin mastergrad fra Universitetet i K¿benhavn i 1994, og PhD i romfysikk fra DTU i 1997. Han har hatt flere forskerstillinger bŒde i Danmark og USA og har siden 2003 v¾rt seniorforsker ved John Hopkins University Ð Applied Physics Laboratory der han nŒ er i PPS (Principal Professional Staff). Jespers forskning er rettet mot str¿msystemer i magnetosf¾ren, kopling mellom denne og ionosf¾ren, substormer og konjugerte fenomener. Han har involvert i bŒde rakett- satellitteksperimenter og ogsŒ initiativtaker til og leder av et verdensompennende nettverk av magnetografer. |
| | |
| --- | --- |
| <![if !vml]><![endif]> | Kjellmar Oksavik er sikkert godt kjent for mange her ved instituttet. Han tok hovedfag i 1998 og doktorgrad i 2003, med Finn S¿raas som veileder. Han har ogsŒ jobbet ved Universitetet i Oslo, Johns Hopkins University i USA, og er i ¿yeblikket professor ved UNIS pŒ Svalbard. Kjellmars faglige interesser er eksperimentell romfysikk, med fokus pŒ radar og satellittmŒlinger. Han er sentral bŒde som initiativtaker og prosjektleder i flere st¿rre satsninger pŒ UNIS. SŒ nŒ blir ringen sluttet nŒr Kjellmar er tilbake i romfysikkgruppen. |
Vi ¿nsker Kjellmar og Jesper hjertelig velkomne til instituttet!
Nyheter og generell informasjon
De f¿rste resultatene fra tungionekollisjoner er under publisering
Bare tre uker etter at LHC startet opp kommer de f¿rste resultatene og med dem ny innsikt. Vi gratulerer ATLAS og ALICE avdeling Bergen! Les Professor Anna Lipnicakas rapport under, samt pressemeldingen fra CERN hvis du vil vite mer. I gŒr torsdag var det ogsŒ seminar pŒ CERN: First results from Heavy Ion collisions at the LHC (ALICE, ATLAS, CMS) - presentasjonene derfra kan lastes ned.
<![if !vml]>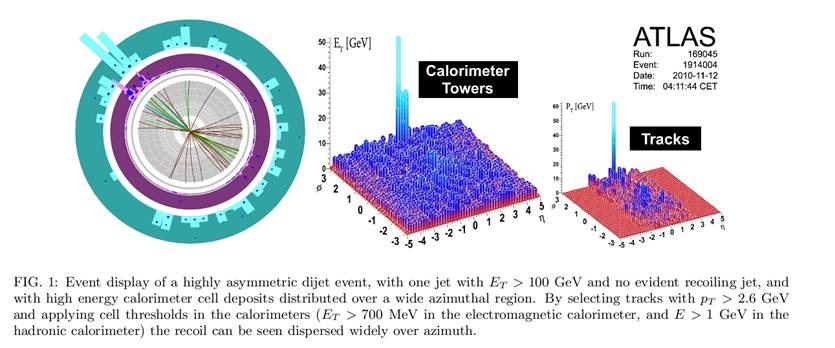 <![endif]>
Last Friday ATLAS had its first paper from heavy ion collisions accepted for publication after being submitted last Thursday night! The effect it shows is a strong hint for quark-gluon plasma and can be observed Òwith naked eyeÓ, as on the attached figure 1 from the paper. The effect is easy to explain in pedagogical terms:
In heavy ion collisions (as in proton proton collisions at these energies) it is mostly quark or gluons that are interacting. The most popular outcome of quark-quark or similar collision is a production of a pair of quarks or gluons which are symmetric in the plane perpendicular to the beam. Quark or gluon leads to a jet, so in proton proton collision the most popular outcome is a pair of jets (dijet) symmetric in the plane perpendicular to the beam. However, as the paper shows in heavy ion collisions the jets come out mostly asymmetric- one of the to jets of a dijet has much lower energy most of the times.
This suggest that quark or gluon at origin of the jet looses energy when going through plasma of the hot colliding nuclea- in a similar way as an electron would loose energy in a standard plasma. This is a strong hint that such a plasma really is produced there, so that the colliding nuclea are not just a collection of protons and neutrons.
Our Bergen colleagues in ALICE studied similar effects at RHIC experiments at lower energies, but it is the first time this effect can be seen with Ònaked eyeÓ- provided the naked eye has ATLAS detector-die.
Erwin Schršdinger Gesellschaft fŸr Nanowissenschaften
<![if !vml]>
<![endif]>
Denne uken gratulerer vi ogsΠThomas Reisinger (i midten) som mandag ble tildelt ESG-prisen innen nanovitenskap sammen med 5 andre yngre forskere! Bildet over er fra prisutdelingen i Wien og her er noen fΠord om prisen:
The Erwin Schroedinger Society for Nano-science donates the Erwin Schoerdinger Society Nano-Price 2010 for extraordinary, innovative work in the field of Nanoscience and Nanotechnology. The price is particularly thought as a support for young scientists and can only be given to people younger than 35 years. Donations can be granted on the basis of publications from the last two years in peer reviewed journals, where the applicant is first author and where the work has been done mainly in an Austrian institute. (Thomas was supported by Bergens Research Foundation (BFS) during his last months in Austria in 2007 where he did the experimental part of the work, the theoretical work was completed in Bergen.) The price is worth a total of 3000 Euros.
<![if !vml]>

<![endif]>
Fellesseminar fredag 3. desember
<![if !supportLists]>¯ <![endif]>Gammaglimt fra atmosf¾ren sett fra den internasjonale romstasjonen
Felleskollokvium ved professor Nikolai ¯stgaard fredag 3. desember kl. 14:15 i auditorium B. Det blir forfriskninger fra kl. 14:00. Velkommen!
Detecting Terrestrial Gamma Ray Flashes from the International Space Station - The ASIM project: September this year, the space physics group at UiB signed a contract with European Space Agency to build, together with Denmark and Spain, a Modular X- and Gamma-ray Sensor (MXGS) for ASIM. ASIM is short for Atmosphere Space Interaction Monitor, which will be launched to the International Space Station in 2014. ASIM comprises one large X- and gamma-ray detector, 2 optical cameras and 3 photometers. These instruments are designed to measure:
<![if !supportLists]>á <![endif]>Terrestrial Gamma Flashes (TGF)
<![if !supportLists]>á <![endif]>Sprites, Elves and Blue Jets (Transient Luminous Events, TLE)
<![if !supportLists]>á <![endif]>Lightning
All these phenomena are related to electric discharges in thunderstorms, but we do not know how they are interrelated. We know a lot about the damaging effects of lightning, but not so much about the physical processes. For example, TGFs were discovered 15 years ago, and we thought they were produced above 40 km. Now we believe they are produced at 10-20 km; at the top of the troposphere and closely related to intercloud lightning. TGF is the most energetic photon phenomenon produced naturally on Earth (up to 45 MeV). Nikolai ¯stgaard, project leader in Bergen, will present the ASIM project and the scientific goals of the mission.
BKKs energikonferanse Klima, energi og verdiskapning
BKK arrangerer konferansen i Grieghallen 26. januar 2011. Mer informasjon om program og pŒmelding kommer senere. Konferansen retter seg f¿rst og fremst mot vestlandsk n¾ringsliv, energiselskap og politikere. BKK hŒper at konferansen kan bidra til at flere fŒr ¿ynene opp for potensialet for verdiskapning og utvikling som vi finner i lokalsamfunnene pŒ Vestlandet. Blant foredragsholderne er:
<![if !supportLists]>á <![endif]>Marius Holm - Nestleder Bellona.
<![if !supportLists]>á <![endif]>Per Rune Henriksen - statssekret¾r i Olje- og energidepartementet (Ap).
<![if !supportLists]>á <![endif]>Erna Solberg - Leder i H¿yre .
<![if !supportLists]>á <![endif]>Anders Bjartnes - Daglig leder i Norsk Klimastiftelse.
<![if !supportLists]>á <![endif]>Oluf Ulseth - Administrerende direkt¿r i Energi Norge.
PhD-nytt
Kommende disputaser
Torsdag, 09.12.10, kl.13.15 i Auditorium 2, Realfagbygget:
<![if !vml]>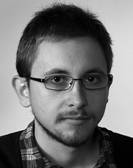 <![endif]>
MSc. Szabolcs Endre Horv‡t disputerer for PhD-graden med avhandlingen:
ÒPhase transitions in non-equilibrium dynamical systemsÓ
Pressemelding: http://www.uib.no/info/dr_grad/2010/Horvat_Szabolcs.html
Fredag, 10.12.10, kl.10.15 i Auditorium 2, Realfagbygget:
<![if !vml]>
<![endif]>
MSc. Yun Cheng disputerer for PhD-graden med avhandlingen:
ÒHydrodynamics and Freeze Out Problems in Energetic Heavy Ion ReactionsÓ
Pressemelding: http://www.uib.no/info/dr_grad/2010/Cheng_Yun.html
Velkommen til lokalet i god tid f¿r disputasene!
Pr¿veforelesning
Fredag 10.12.2010, kl.14.15 i Rom 546, IFT
MSc. ¯yvind Jensen vil holde f¿lgende pr¿veforelesning for Ph.D.-graden:
"Antihydrogen - fremstilling og egenskaper"
Alle er velkommen til Œ h¿re pŒ!
Dette er den nest siste ordin¾re IFT-posten f¿r jul. F¿rste utgave pŒ nyŒret blir 7. januar slik at informasjon angŒende f¿rste uken i januar mŒ v¾re innlevert til neste ukes utgave, senest torsdag 9. desember. Fredag 17. desember blir IFT-posten dedikert en oppsummering av Œret som har gŒtt.
Formidling
Lars Egil Helseth: Giant Diffusion on Magnetic Conveyor Physical Review Focus, 29. november 2010.