Fra instituttledelsen
<![if !vml]>
<![endif]>
Jan R Lien fyller 70 Œr i dag
VŒre hjerteligste gratulasjoner til jubilanten som ble feiret pŒ forskudd med eget seminar 21. januar i Œr!
Der h¿stet Jan mange og velfortjente lovord for sin innsats for UiB gjennom 44 Œr. Spesielt for sin pionerinnsats mot petroleum og PTEK .
Hjertelig takk Jan, du har v¾rt og er en h¿yt verdsatt kollega og vi ¿nsker deg alt godt som emeriti!
Nyheter og generell informasjon
Fellesseminar om vektl¿shet i dag
Professor Anders Johnsson, Institutt for fysikk , NTNU, gir fellesseminar over emnet "Balance systems and weightlessness"
Abstract: Biological balance systems are essential for the growth and the orientation of organisms – what is ÒupÓ and ÒdownÓ and how should deviations from the plumb line be compensated? How sensitive is the balance system? Weightlessness in space provides unique possibilities to answer many relevant questions. Some results from space experiments, mainly on plants, will be discussed.
Alle interesserte er velkommen Œ h¿re pŒ seminaret.
<![if !vml]>

<![endif]>
Gexcon inviterer til seminar om gass- og st¿veksplosjoner
Dato: 12.-14. april 2011
Tema:
Teori
Forebygging
Beskyttelse
Regelverk
<![if !vml]>
<![endif]>
Utlysning av prosjektmidler for etablering/styrking av utdanningssamarbeid mellom h¿yere utdanningsinstitusjoner i Norge og Nord-Amerika.
Informasjon om denne utlysningen og s¿knadsprosessen finnes i ePhorte saknr. 2010/762 og pŒ SIU's websiden:
http://siu.no/nor/Hoeyere-utdanning-og-forskning/Nord-Amerika/Prosjektmidler. Utlysningen samt programdokumentene er vedlagt.
S¿knadsfristen er 6. april. S¿knader skal sendes direkte til SIU via s¿kersystemet Expresso. En kopi av s¿knaden skal legges i ePhorte.
Sp¿rsmŒl om s¿knadsprosessen kan rettes til Jan Bjarne Mo ved Studieadministrativ avdeling, UiB.
<![if !vml]>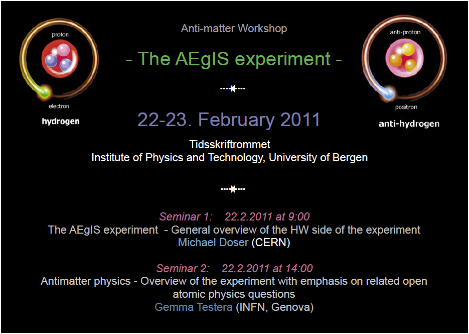 <![endif]>
Gruppene for Atomfysikk og Partikkelfysikk arrangerer i fellesskap neste uke et anti-matter workshop med tema AEgIS eksperimentet. Et av det aktuelle antimaterie-eksperimentene som blir bygget pΠCERN. Arrangementet blir holdt tirsdag og onsdag neste uke (22 og 23. Februar) og det blir to seminarer av generell interesse:
<![if !supportLineBreakNewLine]>
<![endif]>
Seminar 1:
22.2.2011 klokka 9:00
The AEgIS experiment (seminar) - General overview of the HW side of the experiment (including boundary conditions/cryogenics) 1h00'
Speaker: Michael Doser (CERN)
Seminar 2:
22.2.2011 klokka 9:00
Antimatter Physics (seminar): Overview of the experiment with emphasis on open atomic physics questions that needed to be solved 1h00'
Speaker: Gemma Testera (INFN, Genova)

Detaljert program finnes her:
http://www.folk.uib.no/nfyko/IFT-posten/AEGISagenda.pdf

Som dere kanskje vet er antimaterieforskning veldig aktuell, med flere store gjennombrudd i senere tid:

http://www.iopblog.org/controlling-antimatter-cern-physics-worlds-top-2010-breakthrough/
http://www.nature.com/news/2010/101117/full/468355a.html
http://press.web.cern.ch/press/PressReleases/Releases2010/PR24.10E.html
http://press.web.cern.ch/press/PressReleases/Releases2010/PR22.10E.html
<![if !vml]>
<![endif]>
Dear Nordlys-Partners,
We are pleased to welcome your students at AU Summer University in July and August 2011 in Denmark. The programme is divided into two consecutive terms running from 4-29 July and 1-26 August.
During the summer, Aarhus University offers more than 80 courses within Business and Social Science, IT and Media, Art, Language and Communication as well as courses within other focus areas such as Health Science, Agricultural Science, Environmental research and Technical Engineering.
Find information about the courses here and housing here.
The enrolment process for the new programme has now started and students can apply until 15th March 2011. Find information regarding admission for students with bilateral agreements here and for other international students here.
We also have a varied social programme connected to AU Summer University which gives students a chance of meeting other Danish and International students.

We will send you a sample of the marketing material for AU Summer University to be distributed among your students.
Please contact us if you would like more posters or postcards, or if you have any questions.

Kind regards
Dorte F¿ns S¿rensen
Head of AU Summer University
Dorte dfs@adm.au.dk
www.au.dk/summeruniversity
International Centre
Aarhus University
H¿egh-Guldbergs Gade 4, bldg. 1650
DK-8000 rhus C
| | |
| --- | --- |
| Web: | |
| Mob: | +45 2134 3366 |
| Phone: | +45 8942 6839 |
| Email: | |
Norges Tekniske Vitenskapsakademi, NTVA, og TEKNA inviterer til et seminar i anledning ÓKjemiŒret 2011Ó
Sted: Lokalene til Det Norske Videnskaps-Akademiet, DNVA, Drammensveien 78, Oslo
Dato: Torsdag 24. mars 2011, kl. 14:00 - 18:00
KJEMI - FAGET SKOLEN GLEMMER?
Mer informasjon pŒ vŒr hjemmeside (her)
Seminaret er Œpent for alle - ingen seminaravgift.
Middagen etter seminaret har en kuvertpris pΠkr. 300,-
PŒmelding til ntvamail@ntva.ntnu.no eller
telefon: 73595463. Meld fra om du skal delta pΠmiddagen eller ikke
PŒmeldingsfrist: Mandag 21. mars
Trondheim/Oslo 15.2.2011
Hein Johnson Terje Olav Moen
NTVA TEKNA
INVITASJON TIL SEMINAR
Norwegian Academy of Technological Sciences, NTVA, and The Norwegian Scientific Academy for Polar Research, NVP, invite to an open seminar on:
Technologies for Development of the High Arctic
THURSDAY MARCH 17th 2011: 16:00 – 19:00, LERCHENDAL GRD, TRONDHEIM
Program:
15:30 - 16:00 Refreshments and registration
16:00 - 18:15 Presentations:
Challenges of the High Arctic, Gunnar Sand, Managing Director of UNIS

Sustainable Arctic and Coastal Marine Technology, Sveinung L¿set, Professor at NTNU and Head of SACME

Perspectives of Norwegian-Russian Scientific Cooperation for Sustainable Development of Arctic Technology, Aleksey Marchenko, Professor at UNIS

Sustainable Coastal Infrastructure in Arctic Areas, Svein-Willy Danielsen, Project Director at SINTEF
18:15 - 19:00 Discussion
Please find more information on www.ntva.no
The seminar is open for everyone – there is no admission fee
Sign up for seminar by:
E-mail: ntvamail@ntva.ntnu.no
or Telephone 73 59 54 63.
Please sign up before Monday March 14th
Trondheim/ Longyearbyen February 2011
Hein Johnson

General Secretary NTVA

Gunnar Sand

General Secretary NVP
PhD-nytt
Seminar over selvvalgt emne
Tirsdag 22.02.2011, kl.10.15 i Rom 366, IFT
MSc. Shunping Liu avholder seminar over selvvalgt emne:
"Sensitivity study on Snorre B-Lunde reservoir simulation model"
Alle er velkommen til Œ h¿re pŒ!